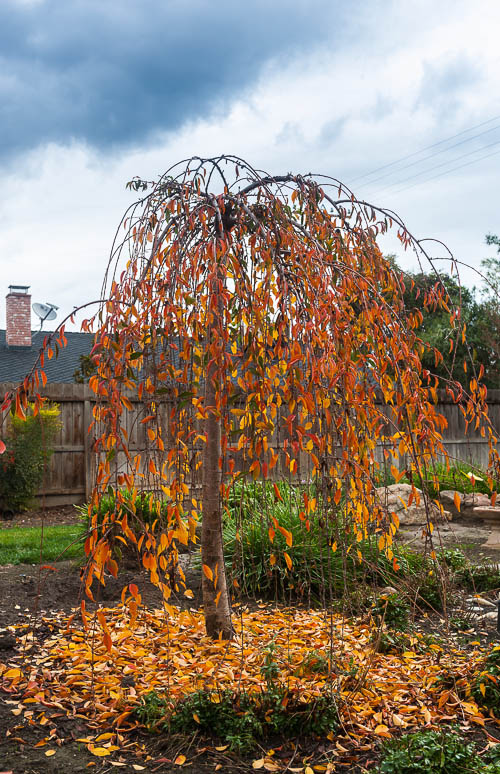 Snow Fountains® Flowering Cherry Fall Color
Autumn is one of my favorite times of the year.  I am sure it is for you too.  As a photographer, I enjoy seeking out the bold colors of the season and often don't have to go far to find them.  This photo taken last week is what my wife and I get to see right outside our kitchen window.  I decided to snap this photo just as the rains began - knowing that the storm would finish knocking down the leaves and ending the show.
We have 3 Snow Fountains® Flowering Cherries in our yard.  So I guess you can say I like them.  The one out front is a 30" specimen that looks great among the landscape boulders.  The one in this photo is a top grafted selection which is more common in the trade.  I found our new dog loves lying under the shade it creates during the hot summer days.  The other one in our side yard is a low budded selection that was rasied up to 6 feet with weeping branches the whole height.  It is spectacular and one that more people need to plant in their yards.
If you want to see the stunning white spring blooms, take a look at my earlier blog: http://www.lecooke.com/cms/component/content/article/43-flowering-trees/366-snow-fountains-flowering-cherry.html
Additional gallery of photos can be seen here: http://www.creatorspalette.com/FloweringFruitTrees/Flowering-Cherries/Snow-Fountains-Weeping/
Since the leaves are falling, it means bareroot harvest is upon us.  Won't be long before we are shipping trees to our customers.
Ron Ludekens 12-6-2012