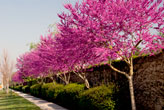 ---
Welcome
Note: Partial Closure: The Bareroot Wholesale Nursery portion of our business was closed in the Spring of 2018 and is no longer shipping bareroot products (see the reasons why in this article Closure Reasons).
The L.E. Cooke Supply Company that manufactures Miracle Garden Tie and Imports the MAX Tapeners remains open as a separate business as well as the L.E. Cooke Liner Propagation Nursery for contract potted liner orders.
Liner trees are grown in 1.6-liter air pruning containers. They are ready for sale at approximately 2-3' tall and fully rooted out. While the focus is on the landscape nursery side, we also are beginning to grow Persimmons and Jujube again as the demand is there. So far this has been for mainly the commercial trade, but there is a place for these products in the nursery trade as well. Other trees can be grown as well.
Please contact This email address is being protected from spambots. You need JavaScript enabled to view it. for more details on the liners or call at 559-732-9146 x 4. A current listing is available HERE to give you an idea of what we are currently doing.
---
We have chosen to keep the varietal information and their developmental history active on this website because the information and history is still valuable for all our past customers and friends around the world.
Since 1944, our passion was to grow the best tasting fruit trees for the home gardener as well as provide excellent quality landscape trees and shrubs. L.E. Cooke Co was a leading bareroot wholesale nursery specializing in growing deciduous trees and shrubs with at one time over 1250 acres in production. You can find the impact of our introductions and products throughout the U.S. and Canada.
---
It is still our desire that this site provides you with helpful information to create and enjoy your outdoor living spaces whether it be a serene quiet space for relaxation, gardens for the freshest, mouth watering fruits or extended areas for entertainment and sports.
---
Retail and Wholesale customers will find useful information and tools to help you in meeting the needs of your customers.