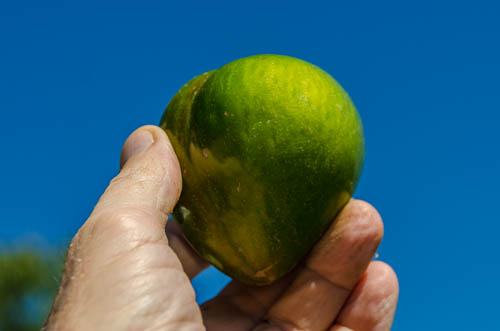 Kelsey Plum - attractive with bloom rubbed off (photo 8-8-2012)
Took a stroll through the orchard this morning before the blazing heat made it intolerable.  Came across the Kelsey Plum with some ready to pick.
Kelsey Plum Tree - Loaded with fruit
This is no ordinary Japanese Plum.  Color, shape and most importantly taste make it stand out.  The unique bright green heart shape is what everyone first remembers about this variety - at least until they bite into it and discover the very sweet, juicy, rich flavor.  Flesh is amber, sometimes blushed red on the sunny side.  We shared with the office staff and won over some more fans.
Kelsey Plum was put back in our catalog this year based upon customer requests.  It will need a pollinizer such as Santa Rosa, Beauty or Wickson Plum.  It ripens early to mid August in the Central Valley of California and it is right on time.  Cold hardy to USDA Zone 5.  Information PDF Page here
Ron Ludekens 8-18-2012