Question: I found Vitex for sale on the Internet in seed form but cannot seem to locate a local store. I can work with seeds but would rather have an established plant. Can you help me find a store to purchase this awesome plant from?
Kind regards,
Lisa - Southlake, Texas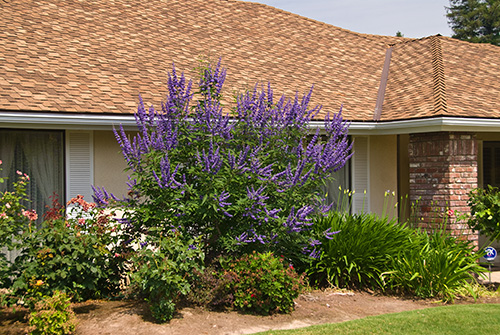 Purple Vitex agnus-castus in the landscape
Answer:
I just returned from a three week sales trip through central Texas and after your severe 2011 drought, the Vitex is one of the hot products because it handles drought so well and looks very nice in the landscape.  Almost every independent retail nursery (but maybe not box stores) should carry it so pick up your yellow pages and call local nurseries.  Most retail nurseries will not list their thousands of products on the Internet unless they are also doing mail order so an internet search will mostly only get the mail order firms.  Phone still works very well.
Vitex from seed is very possible except those plants will vary slightly in color, shape and growth habit.  We selected some nice colors (Pink, White, Blue & Purple) from seedlings over many years and now grow them clonally so every plant is the same as the original.  There are some other named selections in the industry that are also very nice.  Vitex can grow in most climates - but the blooming season lasts longer in the hotter climates - opposite of most blooming plants/trees.  Link to more Information and photos.

Hope you find what you are looking for.
Ron Ludekens 5-29-2012