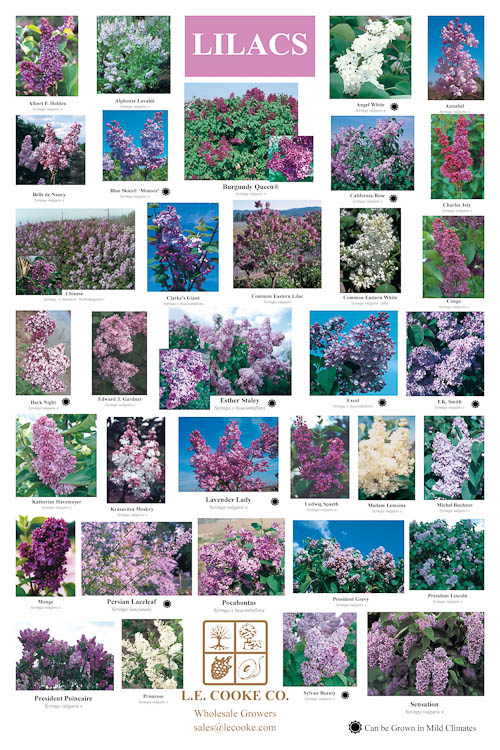 In recent years I have had mixed feeling about our Lilac Poster.
This poster was the first (and so far only) poster we have made and I had high expectations for it back in the days before we even had a website. It was originally received well and continues to be received well for the ones we still give out. After all, photos are always in demand and help sell products.
But it is not used much by our customers and I understand why. You put the poster up and invariably your customer wants the one(s) you don't carry or have in stock. As much as I'd like for you to carry all 34 varieties on the poster, that is not practical.
The reality is, the poster is a good resource for the nursery staff but a little too broad to promote sales within your nursery. Kind of like our sales hallway covered in J.F. Schmidt's posters with lots of trees that won't grow in our climate. A good resource for internal use.
AN IDEA HOW TO USE THE LILAC POSTER

Kevin returned from a sales trip last week and shared what happened at a nursery that has triggered an idea.
After he made his sales pitch for the nursery to consider adding lilacs to their inventory, the nursery manager held up the poster and asked some of her customers (she knew them by name!) which ones they would like to buy. Three customers, three selections and a commitment to get them next spring.
Wow, maybe the poster should be used as a pre-sell poster! As you book orders from the poster, add them to your bareroot order for your January (through March) deliveries. In other words, show the poster before your season instead of during the season. The poster is $7.00 if we mail it to you (cost is postage and tube) or ask your salesperson if they have any in their vehicle and it's free.
If you don't want to show the whole poster, just add the 8.5 x 11 point of sale pages to your pre-sell binder for your customers to select from.
Pre-selling your stock and taking a deposit is good business. More about that concept in a future post.
Ron L.