Question: How to make the quince blooming in Chinese new year!!
Shuna
Cameo Flowering Quince

Answer:Shuna,
I love the Flowering Quince (Chaenomeles speciosa) as a cut flower!  When everything else in your garden is still dormant, these hardy plants make their welcomed early arrival with a burst of color. These plants are one of the first to bloom and, as such, are popular for the Chinese New Year.
Of course the answer to your question depends a lot on where you live (climate) in relation to when Chinese New Years falls.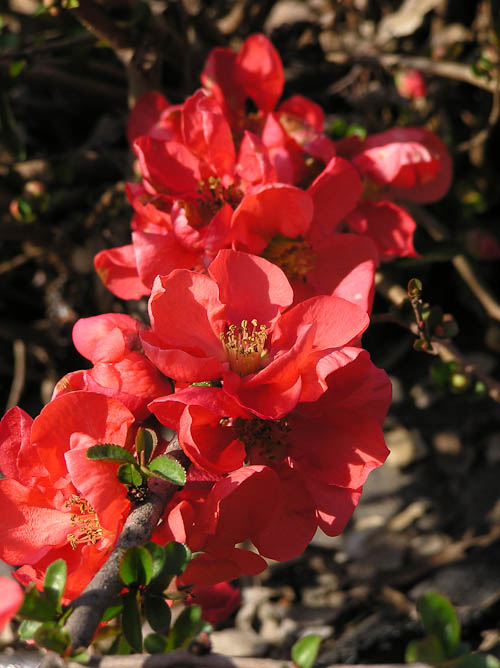 Texas Scarlet Flowering Quince
Flowering Quince blooms on last year's growth.  After the bloom each spring, cut back the plant.  Then the rest of the year will grow branches which will bloom the following spring.  A dormant branch can be brought indoors where it is warmer and will bloom over time.  I usually like to cut mine when the buds are already starting to swell or even blooming at the tips.  I confess that I am not a cut flower grower and have not created a recipe of how early to cut it or how warm to set a room to reach peak bloom.  I think you will have to do some experimenting or contact a cut flower expert if you want to do this in any commercial quantity.
The Flowering Quince also are quite attractive to birds.
Follow this link to information about different varieties of Flowering Quince: Flowering Quince
Ron L.