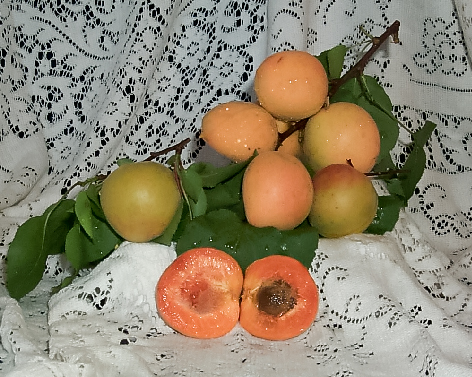 MONTROSE APRICOT
In 1952 Lloyd Rosenvold purchased land in Montrose, Colorado.  He found a very large apricot tree in a hillside pasture believed to be a seedling.  The tree produced huge crops of medium to large fruit of superior flavor and quality.  He was surprised as the winter was -31° and the previous year even colder.
Mr. Rosenvold took seed with him when moving to Idaho in 1966.  The original tree had limbs with 6" - 8" caliper.  Some of the seed produced very similar trees with fruit and now growing close to the Canadian border.  We selected one tree he had named Montrose because of the fruit quality and tree hardiness.
Montrose has very large crops of medium to large apricots with superior sweet flavor, freestone, with a reddish blush to the skin.
The L. E. Cooke Co started to grow Montrose Apricot in 1988.  The trees produce well for us each year in our orchard and have a good flavor.  Our sales have been to Utah, Colorado, Idaho, and other cold climate areas.
2011 I was at a Texas trade show when one of my Oklahoma customers told me about an apricot tree near him that produces each year with good fruit with red cheeks.  I realized I had missed selling Montrose in the north Texas to Kansas, and Missouri areas I was calling on.  The area's spring freezes wiped out the fruit.  Unfortunately we at times associate a variety to an area and forget it could be a great choice in other regions with similar cold winters and late spring freeze.
If Montrose will survive -30° to -40° weather and late spring freeze in Colorado, Idaho and still have good fruit crops, it should do in similar areas that are not nearly as cold but have the spring freeze.  This Oklahoma customer said the apricot with the red cheeks fruited every year.  Montrose has a good size fruit with good sweet flavor and fits the need.
To add to its uniqueness the fruit pit is sweet like the Chinese (Mormon) Apricot.  This could be a good choice in Utah where sweet apricot seeds are used in salads.
This variety has now been cleaned of virus and we have in the orchard.  Since 1995 the trees fruit every year and the last to fruit except for our Autumn Royal.
Robert Ludekens 12-26-2013
Montrose Apricot Information Page - Point of Sale Page