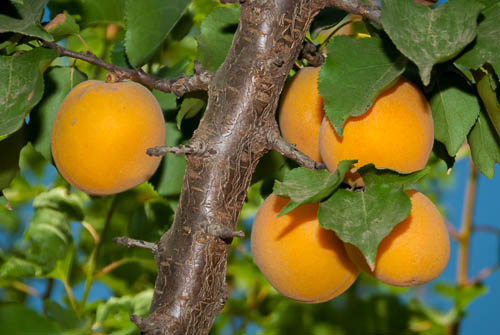 AUTUMN ROYAL APRICOT
L. E. Cooke Patent #2906
Andrew W. Kannonin, Hollister, California had a Blenheim Apricot orchard. In the orchard was a tree with one sport limb that flowered similar to the rest of the tree but the fruit did not ripen until September 15.
Nephew Don Moore (Moore's Western Nursery in Atascadero, CA) shared this information with Bob Ludekens who, along with business partner George Daniels, drove to Hollister to see the fruit quality. We budded a few trees and planted in our research orchard. In our San Joaquin Valley the fruit ripens in late August. The company filed for a patent December 18, 1967 and patent was granted July 15, 1969.
The Autumn Royal produces a Blenheim Apricot into mid September depending where it is planted. This is the latest known apricot making it very unique. The tree should be grown in climates such as the San Francisco Bay area to inland in Southern California.
Autumn Royal is not a good choice for the >100° F. Central Valley where it will pit burn and split open in the summer. In a normal summer we can have fruit from our larger trees that shade the fruit. When the tree is small the fruit can pit burn or when 115° the fruit splits open.
Autumn Royal does well in the Royal/Blenheim areas where the summer heat is normally less than 100°, such as Montebello, Whittier, San Gabriel, Vista, inland coastal areas with enough chilling for Blenheim. The fruit is the fine quality of Blenheim/Royal Apricot.
Most all apricots are ripening in June/July with a few new selections now in May. Autumn Royal is the only selection we know of after July and mid September makes it very unique.
Robert Ludekens 12-26-2013
Autumn Royal Apricot Information Pags - Point of Sale Page