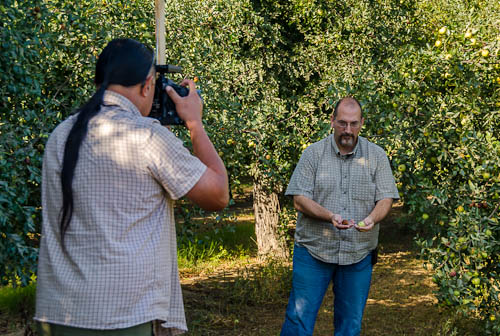 James is video recording a session with Lloyd for the LEC YouTube Channel.
This one is being taken in the Jujubes.
This summer our enterprising and multi-talented sales staff took some time out of their busy sales trip schedules to create informative videos for our customers to use.  Lloyd Cassidy has been the on-camera "host" for most of these sessions.  James Shao has been the videographer.  Ernie Adamakis has been the editor, director and driving force to get them completed and posted to YouTube.  The rest of us have been the gofers, grips and occasional but good humored critics. I am thrilled that all this good stuff is getting done without me having to do anything but applaud.
They have a whole host of ideas to turn into videos which we hope will be of help to our customers and your customers.  As we get better at it, I am sure we will re-do a few to polish them up.  All our videos are very short - under 4 minutes each.
Here is the main Link to the L.E. Cooke YouTube Videos: http://www.youtube.com/user/LECookeNursery
What do we have and have planned?
First up are the educational series related to handling bareroot. 1) Introduction to Bareroot, 2) Delivery Day Unloading, 3) Delivery Day Storage, 4) Bareroot Display Box, 5) Canning Bareroot, 6) Why Prune?, 7) Pruning Pomegranates for Transplant Survival, 9) EZ-Pick?, 11) Bareroot Grapes. Handling bareroot is an area needing constant training and re-training in the nursery industry.
Their goal with these instructional videos are to help you and your staff be very successful with handling and selling bareroot trees.  There are more to come that are still in editing (as you can see by the missing numbers).
They also have been shooting scenes by the fruit trees as the fruit ripens and talking about why they like it.  I think the fruit is ripening and video being shot faster that we have time to edit and publish the end results.  Check back frequently for more.
I suggest you "Like" us on our Facebook Page and as new videos are created, we will let you know through the Facebook page.
Email us and let us know what you would like to see in videos.
Thank you
Ron Ludekens 9-19-2012