"Where are the Red Trucks?"  Answer: We are going "Green"
No, not green trucks.  Something a whole lot more fuel efficient and cost efficient.  Hybrid cars.
I guess being in the "Green Industry", I get a little jaded about all the "Going Green" topics in the press. So forgive me if I write about something similar on this blog.
Those of us in agriculture are constantly working to be efficient, to conserve and to be "sustainable".  You do not grow on the same dirt very long before you realize that non-sustainable practices will kill that dirt and make it non-productive.  So over the years, we "farmers" learn a thing or two about sustainability.  As technology improves and becomes affordable, we look for ways to improve our practices.  One area we have made huge strides is with water conservation, air quality, tractor diesel fuel reduction, labor reduction all while improving the quality of the trees - which all came through long research into drip irrigation methods.  That is a story for another blog.
If you have been our customer for very long, you came to immediately recognize our red 3/4 ton, F250 Ford pickups.  For decades, these have been our sales vehicles and often delivery vehicles.  We had the red trucks even before red became a popular color.  In the early days we had to custom order them for the color.  Once we retired the trucks from sales use (about 200,000 miles), they worked on the nursery ranches in production.
About 20 years ago, we began the discussion of doing something more fuel efficient but there were a number of obstacles to overcome.  Many of those obstacles were eliminated in the course of the inevitable changes that happen around us. Here are some of the uses we discontinued:
We used to use these trucks with big custom built bodies on them to make the smaller order deliveries to customers in California.  Over time, it became apparent that the 24' diesel bobtails were nearly as fuel efficient as the gas guzzling pickups with ungainly big boxes.  And fewer drivers were needed.  We burned up a few transmissions (and one truck) when the overdrive was not turned off so shipping via pickup was reduced.  When the CHP (California Highway Patrol) told us the custom big boxes were not approved for the trucks, we stopped all together.  Now all deliveries are on the bobtails or larger rigs.
Sales staff used to return trees and soil samples to review to discover the causes of any tree losses.  That needed the trucks.  We discontinued that practice the year Sudden Oak Death started to appear in other areas of the country.  We no longer wanted to run the risk of returning anything that could bring disease or pests into the area or the nursery.  This became one of the many "Best Management Practices" we put into place to keep a clean nursery environment.  We are very strict on purchases of liners by their source and prefer to grow and try to grow all our own stock from the beginning so as not to import any pest or disease from others.
As a courtesy to our customers, the sales staff often made small deliveries (below minimum) to their customers during the January-February follow-up season.  Unless it now fits in the trunk or back seat (ie berry plants), we have had to discontinue that practice.  Sorry.
Last year the fuel costs rose again and after a few sales trips in the trucks, we realized that we could lease a car for a week (with fuel costs) for the same amount it costs just to fuel the pickups!  And since it was about time to buy some more pickups, we decided to try leasing for the rest of the year.  This year, we made a special request from the car rental company to see if they could obtain hybrids for us and they did!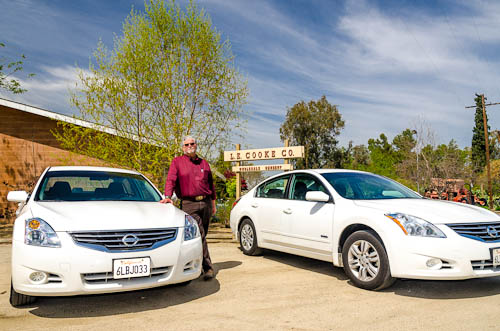 G.M David Cox standing next to two of the three Hybrid cars used for sales staff.
One problem I had - I could not figure out why the car would not start until I was told it was already running and just super quiet
.  And they are not red.
This is not a dramatic change and many of you have done it long before, but it is one of many minor changes that add up over time to being better stewards of things we have control over.
Ron Ludekens 4-10-2012