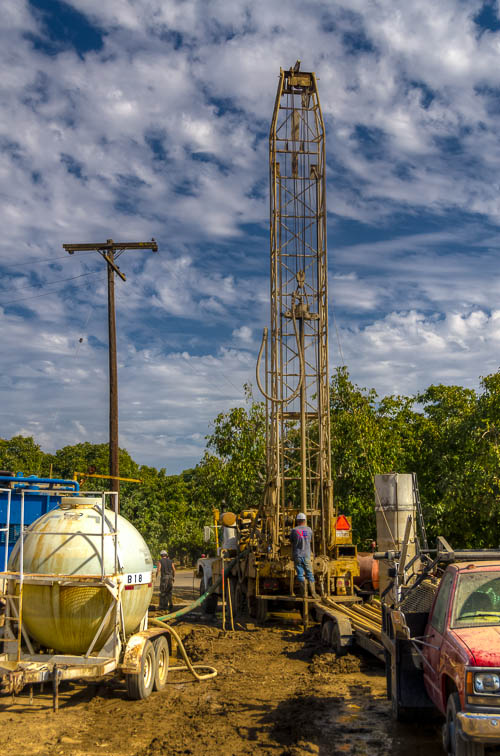 Drilling first of the new wells
It rained yesterday!  That is a big event considering the last three years of drought.  In fact we have had half as much rain in the last two weeks as we had all of last year.  But 1 1/2 inches of rainfall is not much.  Three years of drought with last year breaking all the records at only a little over 3 inches for the whole year.
In spite of advance planning and extra preparation in anticipation of water woes this growing season, we still experienced drought effects on this year's crop.  The crop looks good but, for the most part, caliper sizes are smaller by one to two grades.  Except for the desert loving trees and shrubs which actually got larger than normal.
We learned some lessons this year.  Drip systems are marvelous, but not the total answer to extreme dry conditions.  Until this last year, there has always been residual moisture below the surface of the soil from winter rains.  This has givin us adequate moisture in the soil profile to plant with in the spring and supplement the drip systems through the year.  Although our trees thrive on the drip systems we use, it is now obvious that they also must have used more water and nutrients from further away in the soil profile which were not there this year.  Lesson learned: pre-irrigate in the early spring if we do not get winter rains again.
Drip systems are also not as forgiving when water is not applied exactly when needed.  When we used to flood irrigate, we would irrigate every 10-14 days with lots of water residing in the soil profile below the surface.  With drip, there is only the small amount in the immediate root zone.  We water on drip every couple of days.  With none extra in the soil profile, the tree will stress and shut down if water is not available in a timely fashion.  There were several hiccups this summer in spite of our pre-planning for the drought.
Last spring, in anticipation of water woes (wells running dry), we connected multiple wells across common blocks of fields with surface piping.  Some newer wells are deeper than the older wells.  As feared, the water table dropped another 15-25 feet and, in the course of the summer, 8 older wells temporarily ran out of water until we could get the bowls lowered.  While in this process, we still fed the drip from other wells while we lowered the bowls.  Unfortunately a few were lowered to near the bottom of the hole.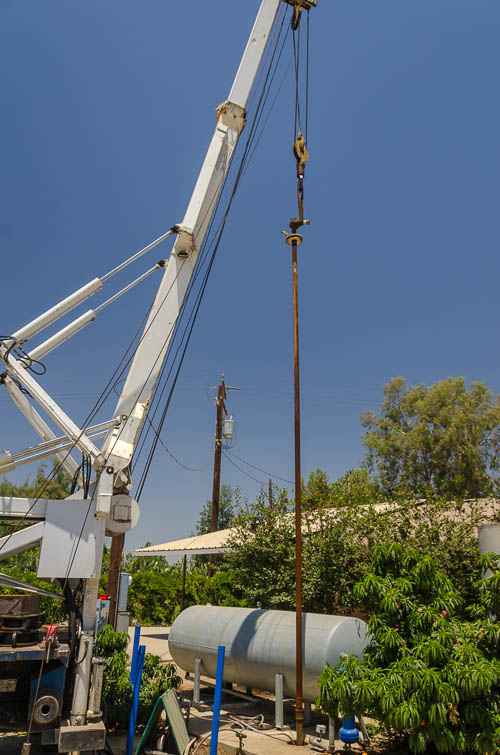 June 12, 2014 -  First well to burp air was our office domestic water supply.  Adding lengths of pipe to lower it. Replaced moter to accomodate greater depth. Since it is right outside my office window, I took plenty of photos of this well over the summer.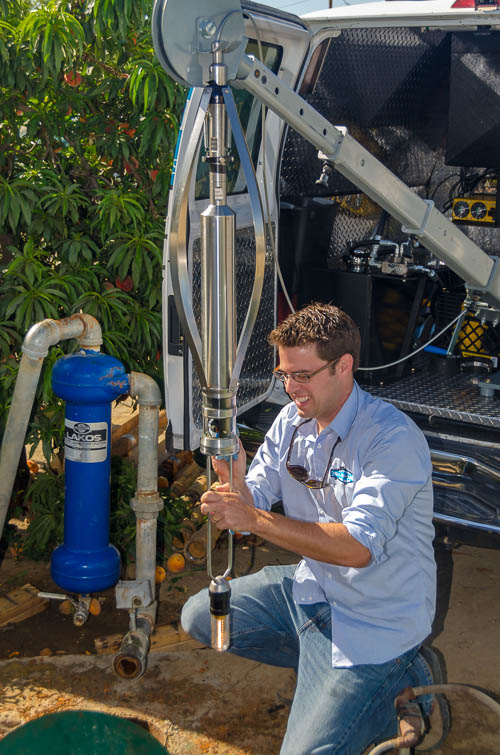 June 13, 2014.  Inspecting the well casing.  Water came up dirty from the lowered pump.  High tech to the rescue.  Lowered this camera down the well to see what was happening.  Unfortunately (not for him), we ended up using this service several more times over the summer with other wells.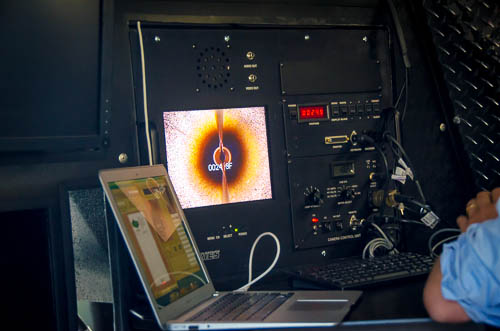 Inside the van is a computer console that shows what the camera sees, records it all to DVD and prints snapshots of any concerns seen.
When a pump draws water from the bottom of the well, it also pumps sand.  Although we have filters (had to clean some of them every 20 minutes), sand still gets into the drip.  As you know, drip systems don't like sand.  We had to abandon the drip on 2 fields and quickly convert it back to furrow irrigation.  With drip running on a healthy well, we can water 100+ acres all at one time from one well.  Furrow irrigation can water about 15 acres at a time which takes many more days (and nights) to traverse a field.  On these two fields, because of the added time to get the first furrow irrigation across to all the trees, we lost some of the water loving trees.  Some of the other trees in the field had a midsummer shutdown (and slow restart) making for smaller sizes.  For example, Babylonica Willow clearly is not drought tolerant and the reduced quantities available reflect that fact.  On the other hand, the Chilopsis (Desert Willow) and Cercis occidentalis (Western Redbud) loved it.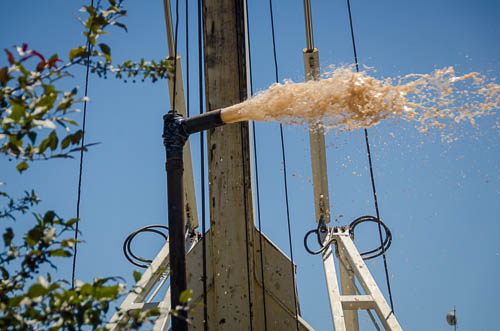 June 13, 2014 Blowing sandy water from domestic well.  Tried this to see if we could clean out the base of the well.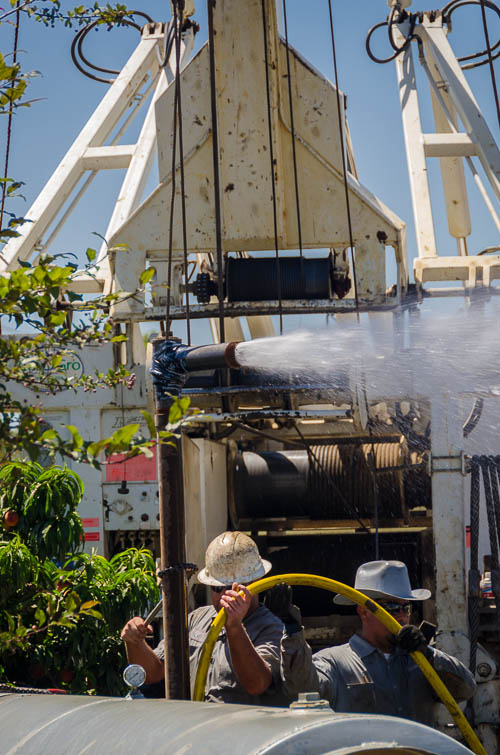 High pressure air is pumped into the well to blow out the sand (water is already clearer here).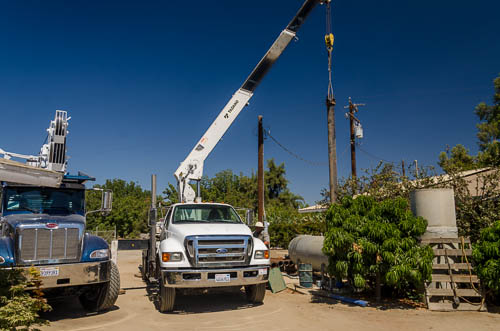 August 28, 2014 - Well is deep enought, just too much sand and dirty water going into filters from rusted holes in steel casing.   Decided to re-sleeve the office domestic well to solve that.  Over the course of the summer, this submersible pump was pulled 4 times (last time was to replace defective new motor under warranty).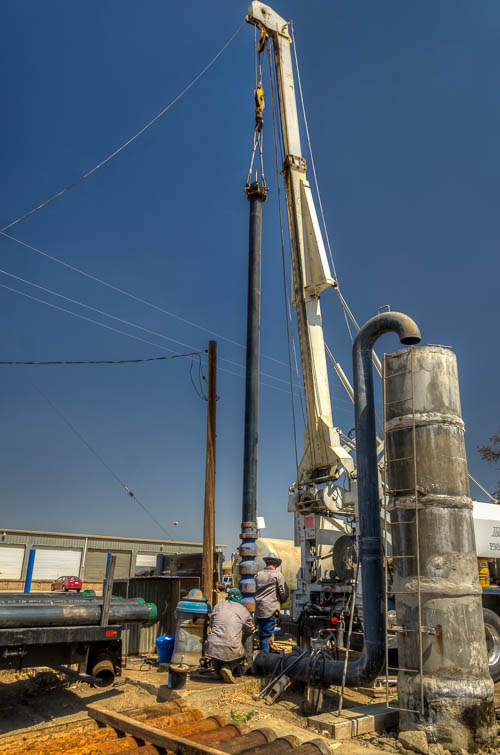 Lowering the pump bowls on Cooke 3B Ag well.
This summer and fall we have been drilling new wells (the waiting list is long and the cost is steep - supply and demand at work).  On each major block of land we have drilled one well extra big and extra deep.  And the water systems on these fields are all tied together.  With these new wells and the work done on the existing wells, we are insuring the future of our water supply for years to come even if the drought continues.  I hope politics doesn't change the game.  By the time all the bills come in, we will have spent well over a half million dollars to keep the water flowing this summer and for the future.  Welcome to farming!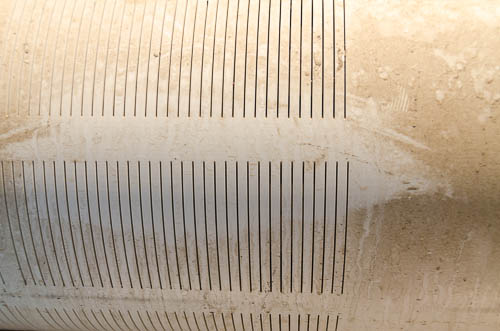 Photo at very top of blog is from October 20, 2014 where we drilled a much deeper and larger well to handle water needs (if necessary) for all 6 fields in Cooke 3 (A,B,C,D,E,F).  This perferated 23" PVC casing was put down all the new holes.  Although more expensive than steel, it will not rust which prevents future problems.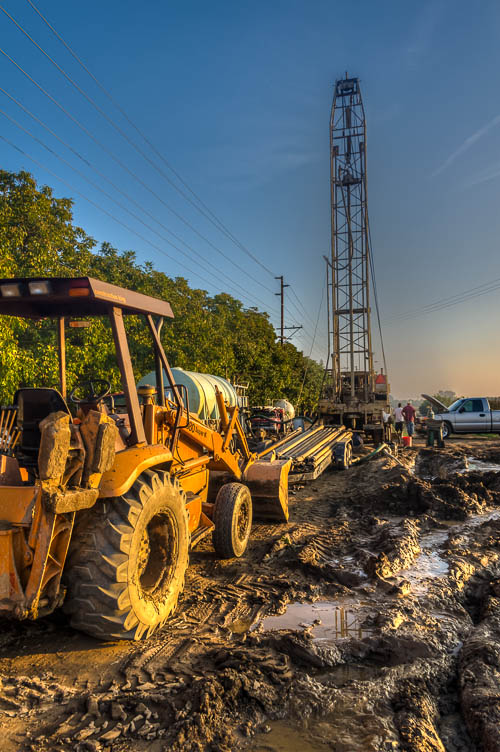 Evening of November 6, 2014 - Drilling large well for Cooke 5 block (Fields A,B,C,D) with ties to Cooke 2 (A,,B,C,D), Duarte and Mello fields.  These drillers have been working around the clock due to wide spread water problems in this vast agricultural area.  Trust me, they are all able to buy new vehicles.  By morning they reached 400 feet with 23' bit.
I am proud of the extra efforts our production and maintenance staff put in this summer to reduce the effects of weather conditions beyond our control.  It was an expensive and not so fun summer for all of us but we got the job done and learned a few new lessons along the way.  Over the winter we plan to work on lowering and inspecting a few more wells before they need to go back into service.  We are committed to serving you with quality trees now and into the future.
In the meantime, keep praying for rain!
Ron Ludekens 12-3-2014