Rooted Blackberry Tips
What are "Blackberry Tips"?
This question comes up whenever we offer some for sale and it is important to understand the difference between rooted tips and a one or two year plant.  I took some photos to help: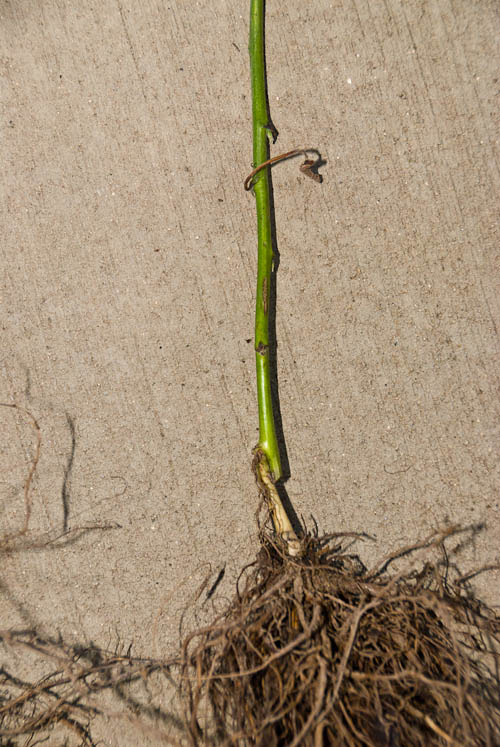 Rooted Blackberry from "Tipping"
A common method of propagating new Blackberry Plants is by "Tipping".  We take a "Mother" plant's long canes and bury the tips in the soil at the appropriate time of the year.  A few months later the cane can be cut off and where the tip has rooted a new plant will arise.
This is how we grew our blackberries and Black Cap raspberries for most of our history until recently when our greenhouse facilities were expanded to handle additional propagation. In the photo above, you can see a typical blackberry rooted tip.  If you plant this vine, it will root and send up new canes.  All sounds normal - right?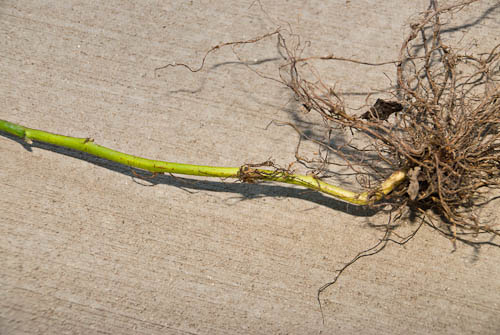 Look closely at the bud eyes.  They are upside down - pointing at the ground, not at the sky like a normal plant would.  This original cane from the mother plant that was essentually rooted upside down will die back to the roots.  The roots will send up new canes.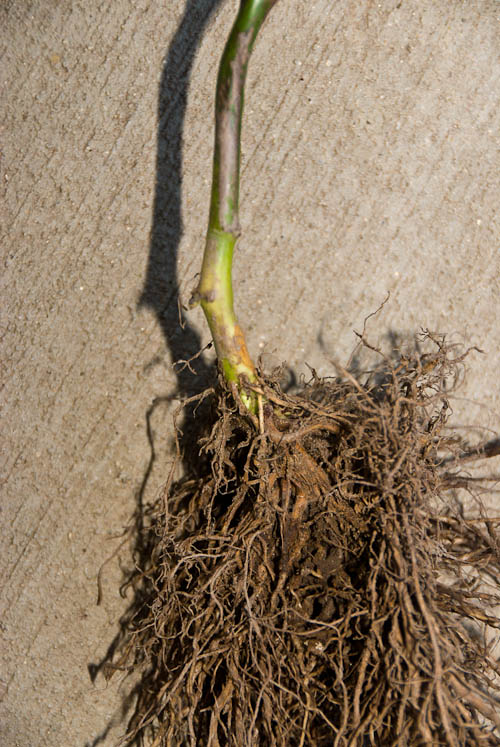 You can see the bud eyes near the roots that will send out new canes from this rooted tip.
We now grow the blackberries in propagation pots and then plant them in the fall.  A year later we harvest nice mature vines.  This gives us a well rooted plant started in the propagation container plus a plant that had a year in the field.  Plus we get better accuracy in inventory counts knowing how many we plant minus a small loss factor whereas tipping was very hard to count.
With the demand for berries climbing so rapidly, we decided to tip some varieties this year and offer the rooted tips at a lower price to those who are looking for berry plants and willing to work with the tips.  As I mentioned above, these are how we used to grow all our berry plants and can still be found in many catalogs of berry growers across the land.
Ron Ludekens  12-20-2010