Yesterday, I was driving down one of our county back roads near the nursery and saw this rather stunning sight: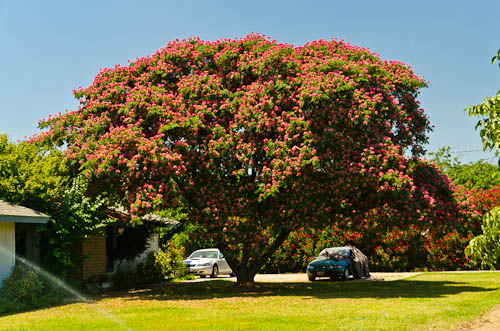 (Of course the photo would be a little nicer without the junker car under it and the rain-bird sprinkler running in the foreground.)
By the red flowers, it must be the Flame Mimosa (Albizia julibrissin 'Fan Silk') - or at least that is the same color of the flowers on the Fan Silk trees we grow.  I have always found this to be a very attractive tree and I highly recommend the 'Fan Silk' over the paler pink seedling selection for the beauty of the red blooms.
Red flowers of Albizia julibrissin 'Fan-Silk' (Flame Mimosa)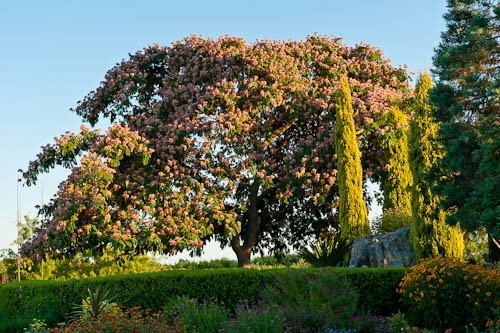 Comparison to seedling Albizia with pink flowers
Albizia are one of those trees that people love or hate.  The negatives include abundant flower mess (but anything that blooms a lot will do this) and legume seed pods in the fall which can sprout in the landscape.  You can see some of the flower fall on the lawn in the top photo.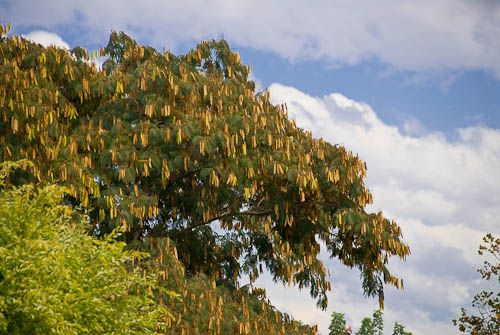 Seed pods in the fall look nice on the tree but will create some mess
People that like them (like me) point to the beauty of the blooms in early summer and the tropical-like, soft foliage.  In the right places, these can be stunning landscape trees.
Soft tropical foliage
They are also very drought tolerant.  For 30+ years we observed several Albizia growing wild in the open field of an abandoned prune drying facility.  Outside of the 9" or so of annual rainfall in November through February, they were never watered.  This is desert climate and they thrived while totally neglected.
I wonder where this family got their Albizia?  You will notice that it is multi-branched and I kind of like it.  We only offer the Fan Silk as a single trunk and a higher head although the pink seedlings we offer does have a multi-trunk option.  I wonder if a chance seed from our Fan Silk was deposited by a bird and mowed off a few times in the lawn?  Or a broken tree from our winter cull pile.  Either way, need to inquire with our customers if this form is something wanted in the future.
More Albizia photos can be seen here: Albizia Photo Gallery
Ron Ludekens 7-15-2011