Ziziphus jujuba 'Sugar Cane'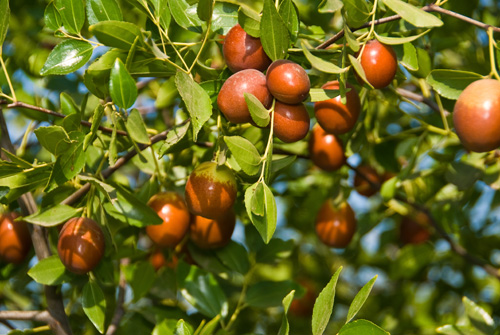 This exciting tree will be a new offering for the 2011 shipping season (sorry - not 2010).
The trees you see here were just planted January 23, 2008! The amount of fruit the second year is impressive. These trees will be supplying the graft wood for the trees to be sold in 2011. Based upon the rapid growth, if we have enough seedlings, we should get a good sized initial crop to sell.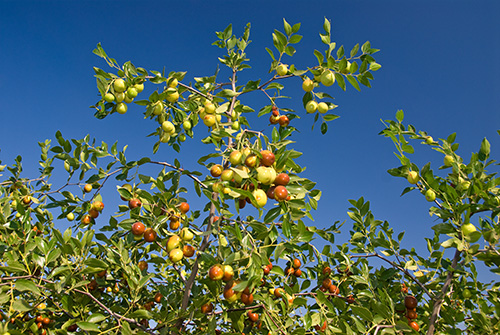 These photos were taken last Thursday 9/17/09 showing that this variety fruits earlier than the others (normally October and later). Each tree seems to have a lot of fruit in various stages of ripening. Fully ripe, half ripe and a lot of green which promises for more to come. Not sure the commercial farmer will like that, but it will be great for the home owner. Since these trees are so young, it is premature to know if this is normal for a mature tree.
I also noticed that the thorns are much, much smaller than Li or Lang Jujube. So far they are tiny. They are not lethal to tractor tires on this variety. Again, I'll wait for older trees to see if this holds true over time.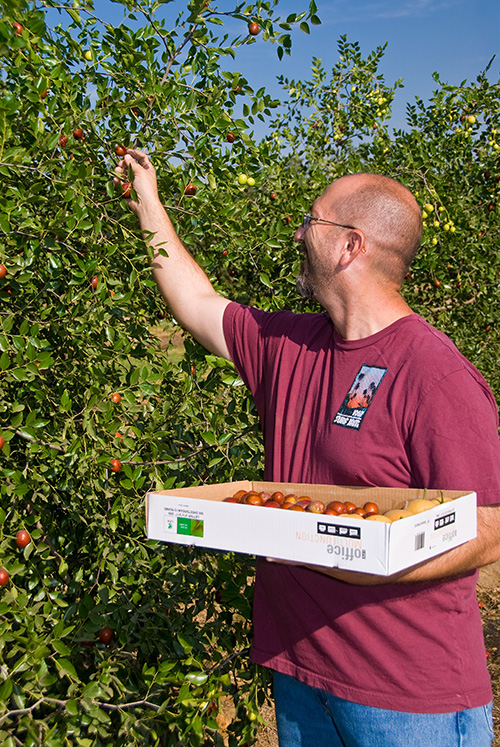 Lloyd is harvesting Sugar Cane Jujube for samples to try in the office. You can see a substantial amount in the box. He filled it before that picking was finished. That evening I went to the box to take some home for my wife to try and only 3 Jujube fruits were left. Clearly the office staff loved them.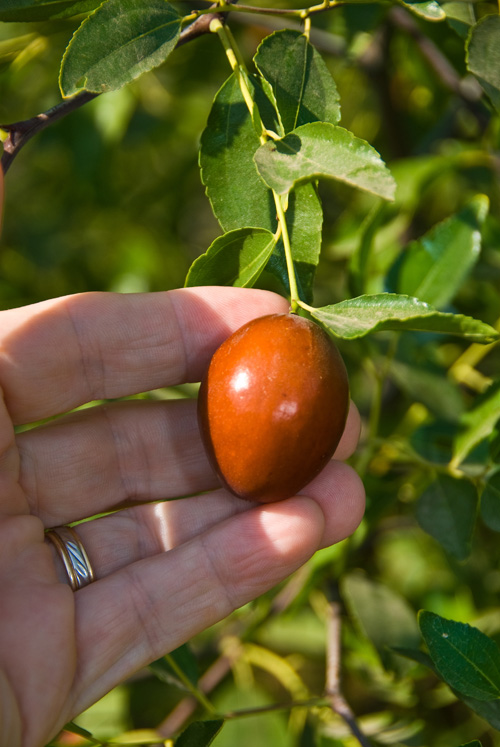 The name Sugar Cane is fitting. The fruit is clearly very sweet - something I really go for. For those of us who like sweet fruit, the Sugar Cane became our favorite of all the Jujube varieties we grow.
Jujube fruit is very popular among the Asian cultures and I think has been somewhat of an "acquired taste" for the American cultures. Based upon the response to our tasting, Sugar Cane Jujube will be an instant hit with all cultures - at least if you like sweet fruit. I am really excited about this product.
To get a feel for demand so we can attempt to produce enough, we are taking advance bookings now for January 2011 delivery. Our goal will be to produce enough initial stock to distribute widely in at least limited quantities before we offer commercial quantities. If your nursery is interested, give us a call.