"Stop! Is that a Pomegranate?"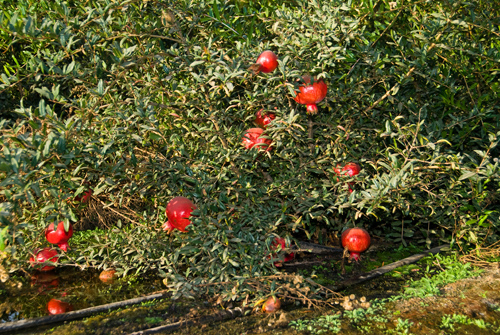 Yesterday, Lloyd, Tom and I took a buyer around the fields from one of the nationally recognized wholesale nurseries. Of course we were all looking at the shades and ornamental trees - things that they buy. They were not looking for fruit trees (although in today's economy they were wistfully wishing they were).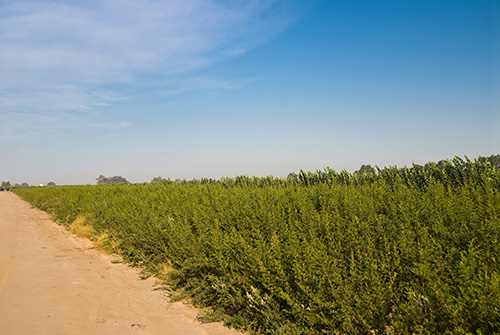 (1/4 mile long rows of 2 year pomegranates)
As we entered another one of the fields, the excited exclamation came to stop and look. The buyer was pointing to the quarter mile rows of Angel Red® Pomegranates - many of which already had ripe fruit on them. This is September 9th - and these young plants (less than 2 years) were already fruiting.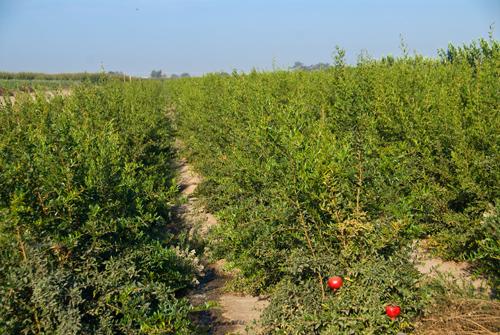 (Photo doesn't show it, but nearly every plant has 1 to 5 pomegranates on it)
Needless to say, we stopped and picked a few fruits and admired how red they were - especially on such a juvenile plant so early in the season. The buyer took the long drive home happily carrying handfuls of the precious cargo with anticipation of the treat ahead. Hmm...wonder how safe it was to drive and eat pomegranates?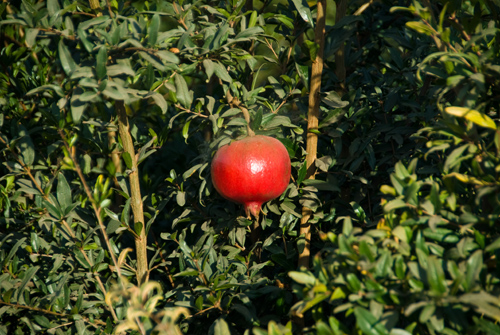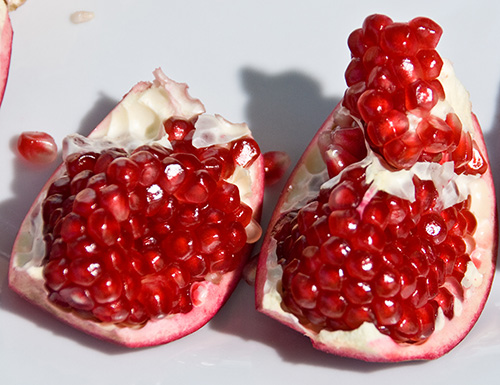 Angel Red® Pomegranates, in my opinion, should become one of the favorite pomegranates across our country. Sales statistics show that it is well on its way to the top.
Why? Ripens a month ahead of Wonderful, gorgeous red color, sweeter and soft seeded. And the mature bush is not as humongous as Wonderful (12-14' vs 18'). A winner in most every way.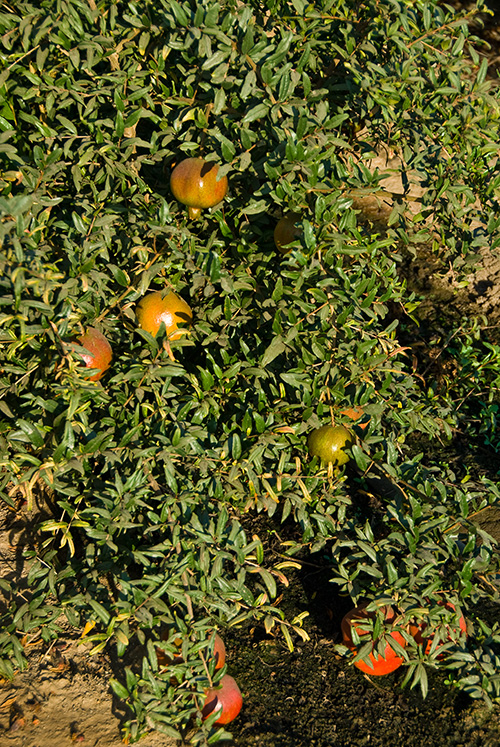 (Here is a comparison to Wonderful 5 rows away - far from ripe)
Any negatives? With one less month of growth, the fruit does not size up as large as the Wonderful (neither do other early pomegranates). But they still get very large, just not huge. Very attractive and sized for commercial sales. I have some concern that the new foliage in the spring may be more susceptible to uncommonly late frosts - at least the last two years we saw very out-of-the-ordinary frosts late in the season which nipped them more than the others.
More information here: Angel Red Pomegranate